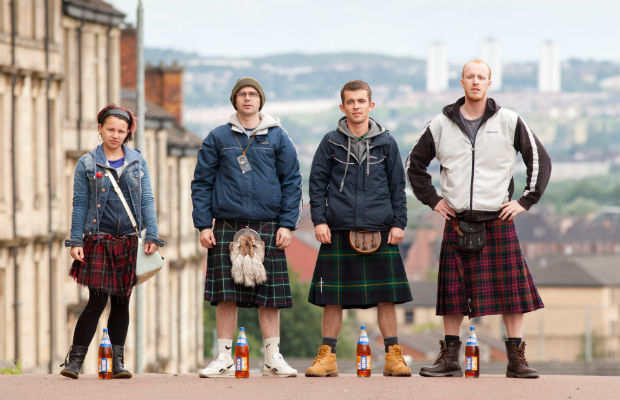 09 Nov 12
BRITISH ACADEMY SCOTLAND AWARDS NOMINEES IN 2012
It's hard to keep on top of how many productions Film City Glasgow inspires and supports; from casting to post production our tenants and building users have tallied up at least 16 BAFTA Scotland nominations this year, that's over 50% of the total 2012 nominations! We're sure the other nominations will have been to our café at some point during production - soaking up the buzz and probably a coffee whilst they're at it. We are always delighted to see how well our tenants and visiting companies are doing and also to see how the Scottish screen industries are growing. The nominations are a great recognition of talent and an opportunity to celebrate success.

Below is a list of just some of the credits to our tenants and visiting productions who have been based here;
THE ANGELS' SHARE was cast by Kahleen Crawford Casting, also United Casting, provided extras. Both companies are based here at Film City Glasgow. [Photograph: Joss Barratt]
CITADEL was co-produced by Sigma Films who are based here at Film City Glasgow. They took additional Office Space, Build Space, Rehearsal / Read through space, Art department, Edit suites, Costume, Make up and used FCG as a location for filming. Kahleen Crawford Casting and United Casting were also involved with casting for this feature.
The team for YOUNG JAMES HERRIOT were based here at Film City Glasgow for both production and post-production. As well as housing all the departments, this production also used the back of the building to form one half of the set's main street, the other half of the street was wondrously constructed by the design team. With a little help from Serious Facilities who completed the picture post, the results were a very convincing Victorian street. Kahleen Crawford Casting cast the main roles and United Casting provided extras.
We have been very lucky to have MRS BROWN'S BOY'S in residence here for rehearsals for 3 years now, they are always a pleasure to have in the building and we hope they come back next year.
UP THERE had production offices here at Film City Glasgow and United Casting provided extras.
Hopscotch Films' THE STORY OF FILM: AN ODYSSEY is an epic 15 hour documentary about the history of innovation in the movies. Award-winning director, Mark Cousins, and producer, John Archer, travelled the world to tell the story of international cinema. Made over 6 years on 4 continents and covering 11 decades and a thousand films, The Story of Film: an Odyssey features interviews with some of the world's greatest filmmakers including Baz Luhrmann, Jane Campion Amitabh Bachchan, Lars Von Trier and Youssef Chahine. Kevin Macdonald described it as Beautiful…a triumph and Brian Cox: A poem to Cinema.
BANK OF DAVE was produced by Finstripe Productions, based here at Film City Glasgow. Finestripe are now making a follow up for transmission this Christmas on Channel 4, the original series is still available to view on 4OD. Since the programme went out there has been enormous interest in Dave's 'bank' from around the world and he is now campaigning hard for better banking in Britain. You can sign his petition on http://bit.ly/BBinB If he gets enough signatures it will force a debate in the House of Commons.
United Casting also provided extras for RAB C & RANGERS.
The 2012 British Academy Scotland Awards will take place on Sunday 18 November, well done and good luck to all the nominations! Many thanks to Sixteen Films for the Photographs by Joss Barratt.
To find out more about any of our tenants please follow the link below to our tenant directory or click on the OFFICE SPACE tab at the top of the page.
http://www.filmcityglasgow.com/tenant-directory
BACK