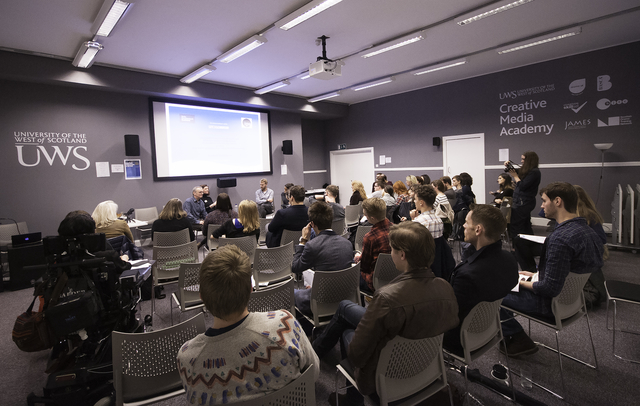 SEMINAR ROOM
The Seminar Room
This facility is a partnership venture between Film City Glasgow and University of West of Scotland. The room is 1005 sq. ft. and features 7.1 surround sound, and full HD projector; perfect for presentations, conference events or private screenings*. The AV equipment is connected to a DVD / Bluray player, and has various input ports including HDMI and VGA; all you need to do is bring your own media playback sources, e.g. DVD or laptop and input cables. The Seminar Room wi-fi is on our 100MB open network, making it easy for you to work online in the space.
*Please note that the room's specification is currently as a seminar room, not a fully soundproofed cinema space, hence screening volume will be at the discretion of the venue.
Room Dimensions
Length - 9.1m
Width - 8.2m
Height - 3.7m
* These are the dimensions of the main space, there is an additonal entrace lobby space of approx 100 sq ft
Capacity
The Seminar Room can comfortably seat;
50 people - theatre style layout
24 people - banquet style layout
16 people - classroom style layout
12 people - boardroom style layout
Room hire includes; 50 conference style seats and 8 conference style tables. We can also supply clothes rails upon request.
Main Equipment Spec.
Projector; Christie DHD600-G DLP 1920 x 1080 6600 Lumen with standard HD lens.
Screen Size; 10' x 6', 3000 x 1.69
Audio; Yamaha AV receiver, Tannoy 7.1 surround, Yamaha Compact Subwoofer.
Catering for events.
The Seminar Room adjoins to the Film City Glasgow café which is open to everyone in the building to use 9am - 4pm, Monday to Friday. Our café operators offer a range of event catering which can be served in The Seminar Room or in a break-out space; we can also keep the café open outside of normal business hours to cater for your event.
For all further info, booking and availability, please email facilities@filmcityglasgow.com